HOW TO GET TO VENUE
Conference venue
NDTCS-2021 will be held in Belarusian State University of Informatics and Radioelectronics located to the address: 6 P.Brovki street, 220013, Minsk, Belarus.
From the airport to the Minsk city
– by taxi
You may order a taxi at any touristic office located in the hall of the Gates 3-6. A trip by the official airport taxi will cost 60 BYN (25-30 Euro) to any point of destination in the city.
– by bus/shuttle bus
Buses run 24/7 (every 20-30 minutes) and will take you to the Central Bus/Railway station. Tickets can be purchased on board in local currency (BYN) at the fare of ca. 5 BYN (2.50 EUR). The bus stop is outside the airport in front of the Gates 5-6.
We kindly ask you to change your money into the local currency (Belarusian Ruble, BYN) prior to boarding a taxi or a bus.
From the Central Bus/Railway station to the venue
The Central Bus Station (Autovokzal Tsentralny) is 200 meters far from the Central Railway Station, near which you can find both a taxi stop and a pedestrian underground with the entrance to the "Ploshcha Lenina" (Lenin Square) metro station. Usually all entries to the metro station are marked with a red letter "M"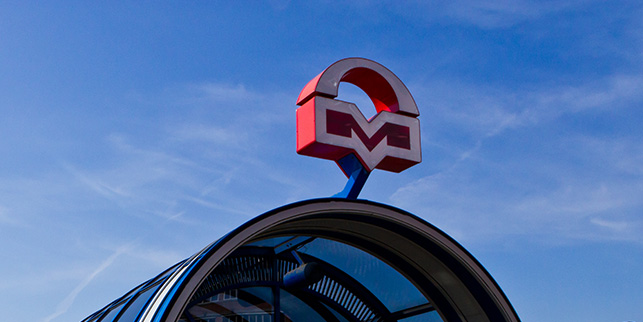 If you prefer to go to the venue by public transport we would advise you to go three stops by metro from "Ploshcha Lenina" to "Ploshcha Jakuba Kolasa". Having exited the metro station in the direction of the train travel, you have to go 700 meters ahead to reach the crossroads of Nezavisimosti avenue and P.Brovki street. Turn rignt and go up P. Brovki street 250 meters until you reach the Building No.1 of Belarusian State University of Informatics and Radioelectronics.
Please be aware that public transport tickets cost less than 1 BYN for one journey. Tickets can be purchased by cash on board of a bus, trolley bus, or tram. Do not forget to validate the ticket in a respective on-board validation machine. A metro ticket looks like a rose plastic coin that is called "zheton", and can be bought at the ticket-office near the metro entrance.